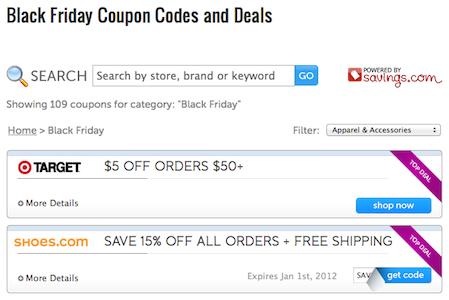 I'm very excited to introduce another awesome new feature on Frugal Finders! Most of you know already that my site has a database of thousands of online coupon codes, powered by Savings.com. Today, Savings.com made this database even better… there's now a separate Black Friday coupon code database on Frugal Finders!
Many merchants are already starting their Black Friday sales, and this is your one stop place to find those deals and coupon codes.
The database is very easy to use. Once you find a deal you like, just click on the blue Get Code button and copy the coupon code. If you don't need a code to get the deal, the button will say Shop Now. It's that easy!
There are already over 100 codes and deals loaded in the database, and that number will just continue to grow over the next week or so! What are you waiting for? Check out the Black Friday coupon code database right now!