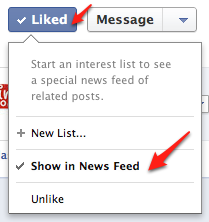 Facebook has made a few more changes recently to the way page owners post. To reach our entire fan base, we would need to pay over $100 per post! So, please help us out and follow these steps to see our posts in your news feed.
Log in to Facebook.
Head over to the Frugal Finders Facebook page and click on the "Like" button.
Hover over the "Liked" button, and click "Show in News Feed" from the drop down that appears.
That's it! You should now be seeing posts from Frugal Finders in your news feed. You can also "Like" or comment on my posts, and hopefully that will help my posts show up in your news feed. Thanks for your continued support!