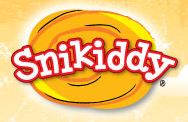 This could take a little work, but you could get a ton of FREE Snikiddy snacks!
Refer 5 friends and get a coupon for a FREE bag of Snikiddy snacks, or refer 20 friends and get 4 bags. There is no limit on how many times you can do this!
Send 5 emails with the link. Have them sign up for newsletter and answer 7 questions and they will get a coupon for $1 off. In order for you to get credit, your friends have to write your name in the comments section to get credit.
Click here to start earning your FREE coupons!
Thanks, SwagGrabber!