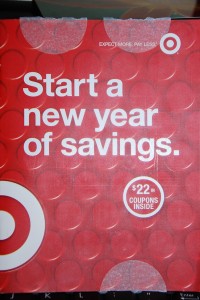 There are lots of coupons that are sent directly from stores or manufacturers to our homes. I know it can be frustrating to see these listed and not have them, so here are a few tips of how to increase your mailbox coupon stash.
SIGN UP FOR SAMPLES
Many samples also come with coupons, and these companies keep your name for possible future mailings and offers. I got the 'Thank You Mom' home mailer from Procter and Gamble a few weeks ago. I don't know exactly what triggered me to get this, but it's probably because I asked for samples and coupons from their BrandSaver program.
SIGN UP FOR VIRAL MEDIA SAMPLE SITES
They want folks who will help spread the word about the brands they are representing. Most have requirements they are looking for, so you may not qualify, but if you do, they send awesome samples and coupons!
SIGN UP FOR EMAIL NEWSLETTERS
You will get offers and special promotions. This is through a contact form on many websites.
SIGN UP FOR ONLINE GROCER ACCOUNTS
This is something most  stores offer now. Get a My Bi-Lo, My Kroger, My CVS, etc. account. This is a FREE online account and a great way to make sure that your shoppers card has the right mailing and contact information for you. They will use your shopping history from your card to send coupons, so make sure they have the right address!
If you live in AL, GA, FL, SC or TN, sign up for the Publix FREE Magazines and Clubs. They have coupons inside of them and come 4 times a year. You are also putting your name and address in the Publix system, which increases your chances of other home mailers.
Some 'Home Mailers' are really Internet freebie coupon booklets. Sign up for these when you see them.