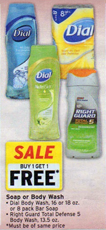 I've heard from some of you about how your local stores are usually out of the great deals you want to pick up. This happens to me quite often as well. I just wanted to take a second to remind you that you can grab a raincheck for the items they are out of, and use them later!
Please note that Walgreens will only write a raincheck for the sale price, NOT for the Register Reward or Balance Rewards deal. CVS, on the other hand, will write the raincheck and include any ECB information.
Here are a few situations where you'll want to grab a raincheck:
Straight up sale prices
Buy one get one FREE items
In-ad coupons
If you come across any of these deals and the coupons you plan on using don't expire for a few weeks, make sure you grab a raincheck. You can take this back at a later date when the store receives more product.
Target will also issue rainchecks for items that are on sale. Rainchecks cannot be issued on Cartwheel deals, or on items that earn a free gift card. These will be valid for 45 days from the date printed and can be used at any Target store.