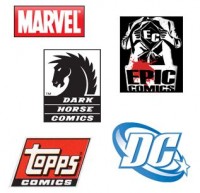 Graveyard Mall is offering a random selection of comics including Marvel, DC, Black Horse, Topps, and Epic for only $9.99 plus $5.99 shipping, which makes it $15.98 shipped. That's only $0.31 per comic!
This is a random selection, so you never know what you are going to get. Hurry if you want this! It sold out last time!
Thanks, SwagGrabber!