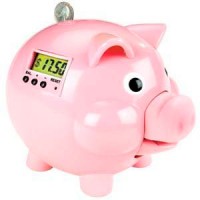 The deal of the day at Graveyard Mall is a Learning Journey Pink Pig E Bank marked down from $24.99 to $9.99…and it also ships FREE!
It's never too early to start saving! Award-winning Pig E. Bank announces each deposit and includes an LED screen that keeps a running total of the balance. Charming pink bank holds up to 400 coins and records up to $99.99. Press the pig's snout and out come the coins!

Friendly Voice Identifies Deposit
LCD Screen Tallies Your Deposit
Introduces Coins And Their Denominations
Encourages Children To Save Money
Uses 3 AA batteries (included)
Size: 7 1/2 in. L x 5 1/2 in. W x 6 in. H
For ages 3 and up
Thanks, SwagGrabber!