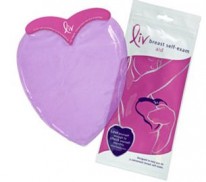 Graveyard Mall has purchased 4500 Liv Breast Self Exam Aids, because early detection is the key to a full recovery. They've marked these down from $19.99 to only $3.99 and they will ship it for FREE! For each Self Exam aid sold, Graveyard Mall will donate $2.50 to Julie's cause.
Liv Breast Self Exam Aid–The Liv was developed and designed with you in mind. The soft, heart-shaped pad uses exclusive Dureflex technology from Bayer Science and is filled with a non-toxic lubricant to deliver the ultimate in comfort and effectiveness. Full, easy instructions are included for doing a breast self-exam and product care.
Patented and FDA-cleared
Reusable tool for use once a month
Reduces friction between fingers and skin
One size fits all
Easy to clean and store
Product Dimensions: 8″ x 8.5″
Thanks, SwagGrabber!