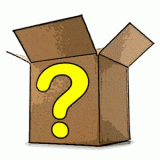 Graveyard Mall is offering mystery boxes today for only $19.99! I have no idea what's in these, but here is what they say about them…
Box full of assorted odds and ends from Graveyardmall.com. This box may include unused returns, items pulled from stock, damaged box items, random odds and ends and more. You'll get a box full of items that you'll be more than happy to pay $20 for, and if your not happy, we'll refund your money and pay the return shipping to us leaving you with no monetary risk.
The Catch
Only one box per household guaranteed.
To make this box as good as we can for you, please provide us with as much info as you can about who you are and who this box is for. For example, it's for one male and one female adults, two children ages 10 and 7, both boys. Adults wear size small shirts and like to golf. The more information, the better idea we have on what to put in your box. Please provide this information in the gift message section, not the comments section of the checkout order page.
Thanks, SwagGrabber!