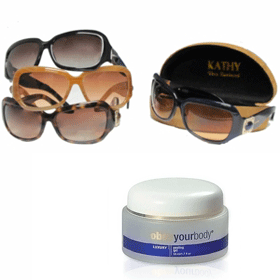 Graveyard Mall is offering up some sweet deals of the day! First, you can get six Obey Your Body Dead Sea Deluxe Peeling Gels for only $13.99. They say the retail value on these is a total of $539.94, but I have a very hard time believing that.
The other deal of the day is 4 pairs of Kathy Van Zeeland Sunglasses with cases for $11.99 total. Retail cost $155.96!
Shipping is $5.95 if you purchase one of the deals, and if you decide to purchase both, it'll only be $6.99!
Thanks, Hip2Save!