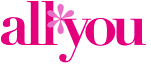 All You January Issues are starting to hit mailboxes!  They just started mailing, so it might be another week or so until you get yours.
If you don't currently subscribe to All You, here is a great deal. Ebates is currently running 42% cash back at Magazines.com. This makes it $11.57 for a one year subscription. If you've never used Ebates before, you will also get a $5 bonus, making this $6.57!
If you have never heard of All You magazine, this is only found in stores at Walmart, but you can subscribe to it with the awesome deal above, through Amazon
, or other magazine sites.  The cover price is $2.44 each at Walmart.
Thanks, Southern Savers!