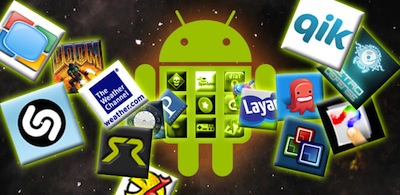 Rising food prices are causing people to look for all kinds of ways to save money on their grocery bills. Clipping coupons from the paper or reading through the weekly circulars sent out by the major grocery store chains each week is a time consuming process that doesn't provide the customer with all the deals available to them.
Once again, technology comes to the rescue. There are a number of FREE Android apps on the market especially designed to help shoppers get the best deals for groceries and other items. So put away the scissors, save the circulars for the bottom of the bird cage, get out your mobile device, download these apps, and start saving money on your food bills!
Grocery Nation Beta
Cut your grocery bill – without cutting coupons! Grocery Nation lets you view items that are currently on sale at your favorite stores. You don't need coupons to get these prices, making saving simple! Many of our sales are uploaded by users like you – join the Grocery Nation and start uploading sales in your favorite stores.
Grocery Pal (In-Store Savings)
Grocery Pal lets users find weekly specials from local stores using their Android device. Users can create and edit shopping lists, compare prices among stores and redeem coupons with only a few taps of the finger. Grocery Pal hosts weekly ads and specials from over 100 retail brands at more than 50,000 locations across the US including Food Lion, HEB, Albertsons, SAFEWAY, Family Dollar, Walmart, Target and CVS.
Groupon – Daily Deals, Coupons
Groupon is probably the world's most popular coupon site, featuring hard to beat deals on things to do, see, eat and buy in over 500 cities. The Groupon app allows users to buy deals on their phones and retrieve them using the screen as a coupon. By downloading the Groupon app, users can get personalized deals, redeem deals directly from their Android devices and share groupons with their friends. All deals on groupon are hand-picked, so users can be confident that they'll get the deal as advertised without any added costs or hidden conditions.
Weekly Ads and Sales
The Weekly Ads and Sales app helps users find great deals at their local stores. Users can find Sales in over 96,000 local stores representing several major retailers. They can also browse coupons from coupons.com and email the coupons to themselves to get additional savings. In addition to grocery stores like Vons, Ralphs, Hy-Vee and Giant Eagle they can also find great deals at places like IKEA, ACE Hardware, Macys, Walgreens and more!
Grocery Smarts Coupon Shopper
Formerly known as Grocery Smarts Lite, this is the official app for GrocerySmarts.com. This handy app enables users to track items and prices from the latest store circulars. Grocery Smarts has a useful feature that cross-references all possible manufacturers coupons with those found in the circulars, displaying the customer's bottom line for each item, offering users even more savings! Users can plan shopping trips based on their weekly deals and email coupons to themselves and others. Grocery Smarts displays the weekly ads from such well known retailers as Smiths, Bashas, Albertsons, and Stater Bros.
SavingStar Grocery eCoupons
There's nothing to clip and nothing to print when using the SavingStar Grocery eCoupons app. This app provides users with free digital grocery coupons that are redeemable at over 24,000 supermarkets and drugstores. Users can link the eCoupons to their registered store customer loyalty cards and use them at checkout.
Best Coupons and Deals
Users can find great deals on their favorite brands with the Best Coupons and Deals app. Some of the useful features include daily updates by a team of coupon clippers and deal finders, hot deal alerts, and exclusive offers. Listings are organized by brand, newest arrival and hottest deals for easy reference. In addition to grocers like Whole Foods, users can find deals for dining (Chili's, MacDonalds, Pizza Hut and others) and retailers like JC Penneys, Forever 21, Walgreens and Macy's.