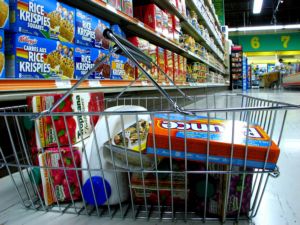 Photo Credit: qmnonic
The following is a guest post from Nick at SavingStar:
For decades, consumers have relied on the Sunday paper to provide them with a stack of coupons in order to save a little bit on their groceries. Then, a few years ago, the grocery world decided it was time to get competitive. Instead of simply honoring manufacturer coupons, grocery stores figured out ways to offer exclusive savings on groceries to their customers. These new trends have added an interesting dynamic to the whole grocery shopping experience.
Here are some of the latest ways that consumers are finding to save at their local grocery store:
Website discounts. There are a number of websites that offer discounts on the grocery shopping experience. There are different models here; some are membership sites where you order items on an ongoing basis at a discount price. Others provide discounts that automatically apply when you use a registered credit card at the grocery store to buy those specific items. Check out some of these kinds of services, and you'll be surprised just how easy it is to get started (and how fast the savings can add up).
Branded loyalty cards. Many grocery stores now offer their own loyalty cards. The basic premise is this: you have the store's loyalty card, and swipe it during the checkout process. You then receive specific discounts on your groceries, depending on what specials the grocer is offering each week. Some iterations of this system actually let you go online and browse the retailer's website and "clip" virtual coupons that attach to your loyalty card, in addition to whatever general weekly specials there might be.
Web based coupons. There are also some grocers that allow you to print specific coupons from their websites for specific items. These coupons are usually different than the ones that come in your Sunday circular. Many manufacturers also offer these kinds of coupons. Simply check out the websites of your favorite brands from time to time, and you'll be surprised to see what they're offering.
Social media coupons. Other manufacturers and grocers are utilizing the power of social media websites such as Twitter and Facebook to draw customers. They may offer special discounts available only to their followers on those sites. If there are brands you buy every week, consider "friending" or "following" them on their social media sites to take advantage of these discounts.
Text based coupons. Some companies are now taking advantage of the proliferation of mobile devices, as well. You can sign up to receive text messages from some grocery stores that will give you access to specific discounts. In many instances, these work alongside your branded loyalty card; after you swipe your loyalty card, you may be able to enter a special code that will give you access to a certain mobile-only discount or coupon.
Discount sites. One of the hottest trends right now in terms of retail discounts is discount sale sites. These include sites like LivingSocial as well as Groupon and many others. The basic premise is this: you purchase a coupon from one of these sites that gets you a greater value in products. So, for example, you might spend $5 to get a coupon for $10 from your local grocer. Many larger retail chains have participated in these discount sites, but there are also many local smaller businesses that participate, as well.
Catalina. That machine at the end of the checkout lane that spits out seemingly random coupons is known as a Catalina machine. (It gets its name from one of the more popular versions of the technology, although today there are several different manufacturers and iterations of this device). The truth is that the coupons it presents aren't random. They're programmed to respond to specific purchases with specific coupons. For example, at some grocery stores if you spend less than $10, you're likely to get a coupon for $10 off a purchase of $75 or more. The idea is to get you back into the store for your weekly grocery shop, as well as whatever you bought that day.
While the coupons from the Sunday circular are still worth looking at, more and more the biggest savings are coming from some of these alternative methods. For example, web-based coupons are often as much as 40-50% higher discount for the same item than the coupon that the manufacturer puts out in the paper. Spend some time looking into these trends and you'll see your grocery savings multiply dramatically.
Nick Simpson is Social Media Coordinator at SavingStar, a leading provider of grocery coupons. SavingStar has pioneered the process of providing grocery store coupons online and has a rapidly growing customer base of happy shoppers that save money with their store loyalty programs.