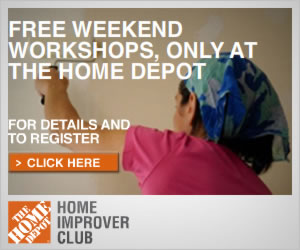 Home depot is offering up some awesome FREE workshops! Go here and scroll down to see all of them. There are workshops ranging from painting to flooring, and even to saving money and energy! These workshops are very informative and are FREE, but they fill up fast, so register for them now!
Also, make sure to sign up for the Home Depot Garden Club! You'll receive an email newsletter with tips about gardening…and there will also be some high value one time use coupons!
If you're planning a move soon or in the future, sign up for the Home Depot New Movers newsletter! You'll get a 10% off coupon just for signing up, with a maximum discount of $200. They'll also email out new promotions, tips, coupons and more!
Thanks, Hip2Save!