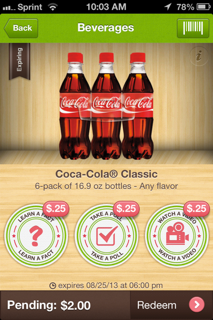 Ibotta has a great new offer, valid this weekend only! Purchase a 6 pack of Coca-Cola Classic Bottles, 16.9 oz each, and you'll get $0.75 back when you upload your receipt. The offer expires Sunday night, so hurry and grab your credit!
Here are a couple more store extras and offers available as well:
All Retailers
$0.75/1 MiO Liquid Water Enhancer, 1.62 oz
$0.50/1 Driscoll's Berries, 4 – 32 oz
$0.50/1 Sargento Shredded Cheese, 5 – 8 oz
$0.50/1 Thomas' Mini Bagels, 10 – 12 ct
$0.50/1 Schick Hydro Razor, 1 ct
Target Store Extra
$0.75/1 Fruttare Frozen Fruit Bars, 4 ct +
Costco Store Extras
$0.75/1 RITZ Crackers, 3 lb. or larger
$0.75/1 Oreo Chocolate Sandwich Cookies, 3 lb. or larger
$1/1 Red Bull Energy Drink Regular or Sugar Free, 24 ct 8.4 oz cans
$1/1 OxiClean Stain Remover or Detergent, 56 oz or larger
Sign Up for Ibotta
Remember, these offers won't come off of your grocery bill, but will be deposited into your account once you upload your receipt. Read more about the Ibotta app.