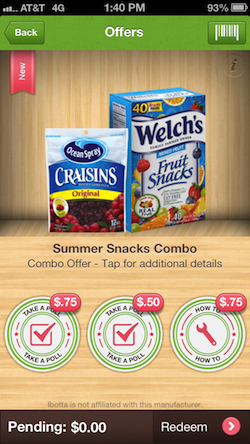 Ibotta has another great way to save, called combo offers! These are available at all retailers. Basically, just purchase two items at one time for new earning opportunities.
Summer Snacks Combo (Earn $2)
Craisins Original Dried Cranberries
Welch's Fruit Snacks
Rise n' Shine Combo (Earn $1.50)
Thomas Bagels
Florida's Natural Juice
Plus, here are more new Ibotta offers available at all retailers:
$0.50/1 Aquafresh Toothpaste, 5.6 oz. or larger
$1/1 Newman's Own Pizza, 12 oz. or larger
$1.25/1 Jack Link's, 3 oz. or larger
$0.50/1 Annie's Cheddar Bunnies, 6 oz. or larger
$0.75/1 Kiss My Face Natural Moisturizer, 6 or 16 oz
$0.50/1 Land O Lakes Sauté Express, 6 oz
$0.50/1 C&H
$0.50/1 Reynolds Wrap, Standard and Heavy Duty Varieties
$0.50/1 Lysol Disinfectant Wipes
$0.75/1 Hansen's Natural Soda, 8 ct
$0.50/1 Chicken of the Sea Albacore Tuna
$0.50/1 Driscoll's Raspberries, 6 oz
$0.50/1 HARIBO Gummi Candy, 5 oz
Sign Up for Ibotta
Remember, these offers won't come off of your grocery bill, but will be deposited into your account once you upload your receipt. Read more about the Ibotta app.