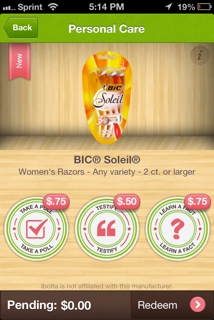 Here are some great new Ibotta offers to load to your account! Load any you think you might use, because these do have a limit.
Limited Time Offers (4 Days Only!)
$2/1 BIC Women's Razors, 2 ct or larger
$1.50/1 Kool-Aid Liquid Drink Mix, 1.6 oz
$1.25/1 Kool-Aid Sugar Sweetened Drink Mix
$1/1 Kool-Aid Jammers, 6 oz pouches, boxes of 10 and 40
New Ibotta Offers
$0.75/1 Brianna's Home Style Dressing, 12 oz
$0.50/1 Sparkling ICE Water or Lemonade, 17 oz
$0.50/1 Otter Pops Fast Freeze Bars
$0.50/1 Crayola Sidewalk Chalk, 12 ct or larger
$0.50/1 Comet Bathroom Cleaner, trigger bottle
$0.50/1 Daisy Original and Low Fat Varieties
$0.50/1 Frigo Cheeseheads
$0.50/1 Oroweat Sliced Bread, 24 oz
Sign Up for Ibotta
Remember, these offers won't come off of your grocery bill, but will be deposited into your account once you upload your receipt. Read more about the Ibotta app.