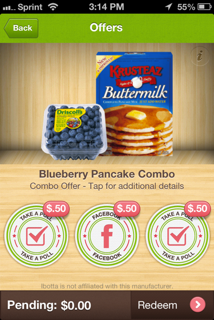 Here are some great new Ibotta offers to load to your account! Load any you think you might use, because these do have a limit.
Offers Available at All Retailers
$0.50/1 TGI Fridays Snack Chips, 2 oz +
$1/1 Brawny Paper Towels, 2 pk +
$0.50/1 Edge Shave Gel, 5 oz +
$0.50/1 GOYA Beans
$0.50/1 Fresh Gourmet Premium Croutons, 5 oz
$0.50/1 Newman's Own Salad Dressing, 16 oz
$0.50/1 Daisy Regular or Light Varieties
$0.50/1 Pebbles Cereal, Fruity or Cocoa Varieties
$0.50/1 Emeril's Cooking Spray
$0.50/1 FLA-VOR-ICE
$0.75/1 Jergens Natural Glow Moisturizer
$0.75/1 Johnsonville Bratwurst
Ibotta Combo Offers (Available at All Retailers
Blueberry Pancake Combo – Earn $1.50
Krusteaz Pancake Mix, 16 – 32 oz
Driscoll's Blueberries, 18 or 32 oz
Chips and Salsa Combo – $1.50
On the Border Tortilla Chips
Ortega Salsa
Target Store Extras
$0.75/1 Gardenburger Veggie Burger, 4 ct
$0.75/1 Special K Flatbread Breakfast Sandwiches, 4 ct
$0.75/1 Morningstar Farms Veggie Burgers, 4 ct
$1.00/1 Kashi Frozen Entrees or Steam Meals
Sign Up for Ibotta
Remember, these offers won't come off of your grocery bill, but will be deposited into your account once you upload your receipt. Read more about the Ibotta app.