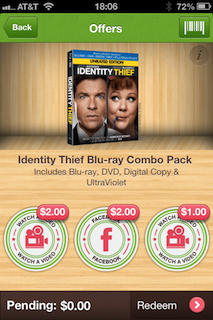 Here are some great new Ibotta offers to load to your account! Load any you think you might use, because these do have a limit.
Offers Available at Any Store
$1/1 EVOL Foods Burritos, single meal size
$1/1 EVOL Foods Burritos, any size excluding minis
Ibotta Store Extras at Walmart
$2.50/1 Tai Pei Asian Garden Entrées, 1 ct
Ibotta Store Extras at Target
$1/1 Van's Gluten Free Pancakes, Totally Natural, 8 ct
$1/1 Van's Power Grains Waffles, 6 ct
$0.75/1 Bertolli Al Dente Single Serve Pasta Dishes
$0.50/1 Red Baron Pizza excl. Pizza & Sides, Pan, and Single Serve
Ibotta's First Movie Offer – Any Store
$5/1 Identity Thief Blu-ray Combo Pack (includes Blu-ray, DVD, Digital Copy, and Ultraviolet)
Ibotta Offers in the Ibotta Product Gallery – Any Store
$0.50/1 Scotch Magic Tape with Dispenser
$0.50/1 Sargento Shredded Cheese, 5 – 8 oz
$0.50/1 Krusteaz Pancake Mix, 16 – 32 oz
$0.75/1 Snuggle Exhilarations Fabric Softener, liquid
$0.50/1 Tabasco Pepper Sauce, 5 oz
$0.50/1 Foster Farms Corn Dogs
$0.75/1 Playtex Tampons, 16 ct +
Sign Up for Ibotta
Remember, these offers won't come off of your grocery bill, but will be deposited into your account once you upload your receipt. Read more about the Ibotta app.