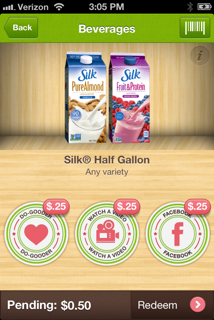 Here are some great new Ibotta offers to load to your account! Load any you think you might use, because these do have a limit.
$0.75/1 Silk Half Gallon
$0.75/1 Gogo SqueeZ Applesauce On the Go
$1.25/1 Talenti Gelato or Sorbetto, 1 pt
$2/1 Clearasil Ultra Daily Face Wash or Scrub
$0.75/1 Hefty The Gripper Tall Kitchen Bags, 13 gal
$0.75/1 Cutter Insect Repellent Spray
$0.50/1 Thomas English Muffins, 6 ct
$0.50/1 Ocean Spray 100% Juice Varieties, 48 oz +
$0.50/1 Honey Bunches of Oats Cereal, Honey Roasted Varieties, 14 oz +
$0.75/1 Jennie-O Ground Turkey
$0.50/1 Sun-Maid Fruit Bags, 6 – 12 oz
$0.50/1 Topo Chico Mineral Water
$0.75/1 Opti-Free Contact Lens Solution, 10 oz
Sign Up for Ibotta
Remember, these offers won't come off of your grocery bill, but will be deposited into your account once you upload your receipt. Read more about the Ibotta app.