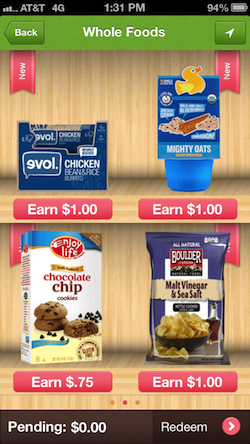 Guess what?! Whole Foods Market is now the 44th retailer where Ibotta works! Starting today, redeem Ibotta offers at Whole Foods Market by taking a picture of your receipt after checkout.
Here are the offers available for Whole Foods Market:
Earn $2 when you buy any 4 items on one trip to Whole Foods Market.
Bonus expires July 31st.
$1/1 Bhakti Chai Ready-To-Drink 16 oz. Bottle – Iced Chai Original * Semi-Sweet * Decaf * Coffee-Blend
$1/1 EVOL Foods, excluding Minis
$1/1 Little Duck Organics Mighty Oats
$0.75/1 Enjoy Life Soft Baked Cookies, 6 oz
$0.50/1 CLIF Kit's Organic Fruit & Nut Bar, 1 ct
$1/1 Peace Cereal, 10 oz. box or larger
$0.75/1 DeLallo Whole Wheat Organic Pasta
$1.50/1 Ian's Fish Sticks, 8 oz
$1.50/1 Ian's All Natural Breaded Organic Chicken Nuggets, 8 oz
$1.50/1 Ian's All Natural Breaded Popcorn Turkey Corn Dogs, 8 oz
Sign Up for Ibotta
Remember, these offers won't come off of your grocery bill, but will be deposited into your account once you upload your receipt. Read more about the Ibotta app.