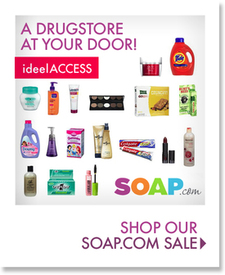 Right now from Ideeli, you can buy a $20 voucher to Soap.com for only $10!
You can also get FREE shipping on orders over $25 when you use coupon code SHIP25 at checkout.
Vouchers not used by 9/20/10 will be redeemable for their original purchase price of $10. Limit on voucher per household. Valid for new Soap.com customers and existing Diapers.com members who have not yet purchased from Soap.com.
Thanks, Mojo Savings!