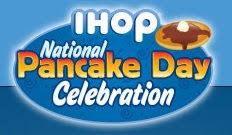 Mark your calendars!
What: FREE pancakes! To celebrate National Pancake Day, get a FREE short stack of buttermilk pancakes from IHOP.
When: 2/23/10 from 7am to 10pm I will post a reminder)
Suggestion: IHOP asks that you consider making a donation to your local hospitals through the Children's Miracle Network. That sounds like a great deal to me!
More details here.
Thanks, Mama Cheaps!