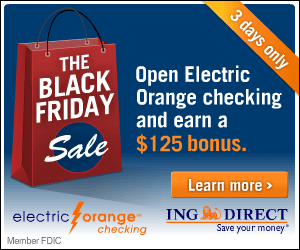 ING Direct is having a rare Black Friday sale! Right now, when you open an Electric Orange checking account, you can get a $125 bonus. This account will have no overdraft fees and no monthly fees.
To get your $125 bonus:
Open an Electric Orange checking account between November 23rd and 25th and make a total of 10 purchases using your Electric Orange Card or CheckMate deposits (or any combination of the two) within 45 days.
Your $125 bonus will be automatically deposited into your account on day 50.
Bonus only available for new Electric Orange checking.
Your bonus may be reported to the IRS and your state.
I am personally thinking about opening an account. Does anyone have any experience with ING Direct? I'd love to hear your feedback!
Click Here to Get This Deal