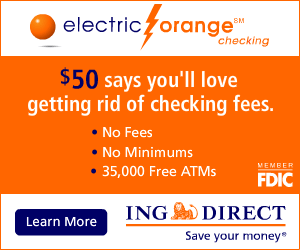 Right now, when you open an Electric Orange checking account at ING Direct, you can get a $50 bonus! I've heard from many readers that this is a great company to bank with, but I don't personally have an account. Why not try them out and earn yourself $50?
To get this bonus, you'll need to make three card purchases, three Person2Person payments, or any combination of the two within 45 days of opening your account. The $50 bonus will be deposited into your account on day 50 if you've qualified for it.
Do you have an account with ING Direct? I'd love to hear your feedback in the comments!