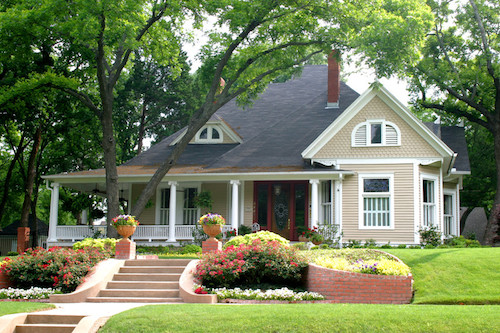 Heating bills seem to get higher every year. Fortunately, making just a few adjustments to your insulation can increase the energy efficiency of your home significantly. Here are five areas of your house that you can insulate better at relatively low cost.
1. Windows
Windows are one of the main areas of a home that allow heat to escape. You could buy new, double-pane windows to trap the heat in, or even buy window sealing kits, which are fairly inexpensive. But if you really want to save money, tape bubble wrap onto your windows. The air in the bubbles hampers heat transfer and it can be taped onto windows in a matter of minutes.
Another cheap (and more stylish) way to insulate your windows is with heavy curtains. Velvet or blackout curtains work especially well. If you have a glass door, hang a heavy velvet curtain in front of it that can be pulled away during the day but provide an extra layer of warmth at night. Pinterest has ideas for DIY insulation curtains.
2. Walls
Most walls are insulated with fiberglass insulation. If you need to add insulation to your walls, why not help the environment at the same time? Today, several insulation companies are using recycled material in their products. Denim is also a popular material; it is safer than fiberglass and traps heat well. Denim can also be fireproofed with mild chemicals that are safe enough to be used in products like eye drops.
Recycled paper is another effective insulation material. Paper insulation comprises a mixture of products like cardboard, newspapers, and hard-to-recycle materials such as pizza boxes and pre-consumer paper towels.
Plastics also have excellent thermal conductivity; studies are currently being conducted to see if these could be used to insulate homes. Using recycled materials not only helps the environment, it cuts down manufacturing costs too, which makes the product cheaper.
3. Pipes
When water is transported from your water heater to the shower, sink, dish washer, etc. it loses heat along the way; insulating your pipes will keep the water warmer, allowing you to turn your thermostat down by 2 to 4 degrees. It also saves water by cutting down the time you wait for water to heat up.
Pipe insulation is generally inexpensive, but there are some greener and more efficient ways to insulate your pipes. One option is to recycle Styrofoam cups and use them to cover the pipes. (A Styrofoam cup taped over the outside spigot will also prevent pipes from freezing.) As a safety precaution, when insulating pipes near an oil- or gas-powered water heater, keep the insulation at least six inches away from the flue.
For super-efficient pipe insulation, wrap an aerogel blanket around pipes. Aerogel is an ultralight synthetic material that has the lowest thermal conductivity of any commercially produced insulation.
4. The Yard
Creating a windbreak around your house can reduce energy loss up to 30%. One effective way of doing this is to plant trees around your property perpendicular to prevailing winds; the distance between the house and the trees should not be more than one or two tree lengths. Evergreens are especially effective windbreakers. Also, placing hay bales around the foundation of your home will block drafts from the outside and keep the floors warmer.
5. The Little Things
After insulating the exterior of your house, it's time to look at the details inside your home. There are dozens of small steps you can take that, added together, will greatly improve your home's insulation. Outlets, for example, let in a surprising amount of air. To prevent drafts, insulate the inside of outlet boxes with foam seals, caulk the perimeters, and put safety plugs in each outlet.
Other seemingly small tips include reversing fans to push warm air down, moving furniture off of vents, shutting doors between rooms, and opening the curtains on the south/west sides of the house during the day. Boiling water also helps to warm a house; moisture traps heat, and as an added bonus, your skin will be more moisturized.
Whether you live in Provo or Toronto, home insulation is important. It can radically reduce your heating bills, and some states will even reimburse you for improving your insulation. So this year, take a survey of your house and find some creative ideas to keep yours toasty all winter long.
Edson Senna is a freelance writer who specializes in home improvement, business, and finance. He draws inspiration for his writing from companies like Reitzel Insulation. In his spare time, Edson enjoys reading, running, and biking.