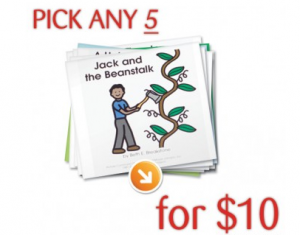 Here's a great deal on Breakstone Book's Interactive Storybooks! If you buy 5 interactive storybooks, you can get them for a total of $10 + FREE shipping! These books are designed for kids ages 3 to 7, and those with special needs…these familiar stories engage children by creating fun, multi-sensory early literacy learning experiences. Each book includes durable, laminated pages that are easy-to-turn, a storyboard, a communication board and story pieces that attach to the book and storyboard with velcro. These books normally range from $15-$20, so at $2 per book, you're saving up to 80% off!
You'll be able to choose from the following titles…
Jack and the Beanstalk
The Gingerbread Man
A Hot and Sunny Day
This Old Man
My Dog and Me
If you're Happy and You Know It
At the Park
It's Time to Go To Bed
Happy Birthday to Me
OOO It's Halloween
Thanks, Hip2Save!