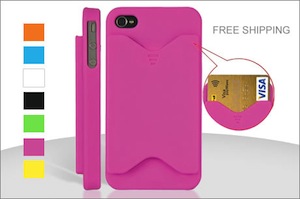 Here's a unique iPhone case! Pick up the iPhone 4/4S hard credit card case from Eversave for $10. You can use promo code GOLD to get an additional $2 off, which drops the price to only $8. Plus, shipping will be FREE!
That's a 64% savings off the regular price of $22.
Product Details
Holds two credit card sized items
Leave your wallet at home, perfect for a night on the town or a quick trip to the store
Available in seven different colors – black, green, blue, yellow, orange, pink or white
May buy up to 5 Saves. FREE shipping is included. Promotional value expires on Jan 26, 2013.