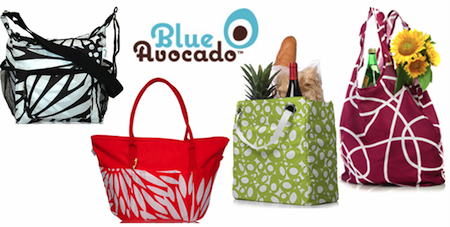 Wanna get some adorable and reusable bags at a super affordable price? You'll want to check out Blue Avocado. Blue Avocado sells reusable bags in bright colors and fun patterns…their bags are compact, durable, machine washable and come in variety of unique forms, including insulated.
Jasmere is currently offering a $40 Blue Avocado voucher for only $17 (that's 58% off), and this price can go even lower as more people purchase a voucher! These $40 vouchers are valid through September 5th.
Voucher Details:
Vouchers will be delivered via email shortly after noon Eastern on Tuesday. Allow an additional 24 hours for your code to be activated in the merchant's system.
Up to two vouchers may be purchased per customer, but only one may be used per transaction.
Your voucher cannot be combined with other offers, including other vouchers, used for shipping, tax or gift certificates.
Your voucher will expire on September 5, 2010.
Blue Avocado's shipping charges typically range from $5.50 to $9, depending on weight and destination.
Thanks, Hip2Save!