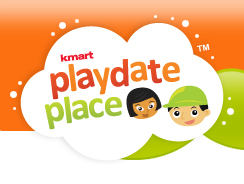 Planning the perfect play date is more than just child's play, with issues ranging from coordinating with other parents and selecting the appropriate toys to adult and child etiquette. With the newly redesigned Kmart Playdate Place community, parents will have even more resources at their fingertips to help them perfect the play date. Moms and dads will never have to plan another play date alone.
Play dates are more than just a time to let children play. They serve as a platform for parents to help their children acquire basic cognitive and socializing skills through new games, and play dates allow children to see new settings. In fact, playing is actually considered a fundamental right for children by the United Nations.
Play dates also help parents get together to discuss tips, recommend new toys and socialize with other adults who, by having kids of the same age, share some of the same interests and concerns. While the kids entertain each other, parents are free to talk among themselves—for some, it may be the only adult conversation they'll have all day. Any parent will tell you one of his or her favorite parts of play dates is the down time these kid-friendly gatherings afford to moms and dads exhausted by the care-taking, chauffeuring, cleaning and refereeing involved in raising their children.
Kmart Playdate Place was launched in late 2010 to do just that – offer both parents and children a fun, inspirational and practical resource for all things play date to help nurture the need for more play dates and to take the burden of planning away from parents. With recent enhancements, customers now have the opportunity to win Kmart Playdate Perks weekly and monthly prizes.
In addition to prizes, customers can find advice from leading bloggers and access plenty of knowledge guides to help plan successful play dates all year long. The latest lineup of Kmart Playdate Parents reflects the diversity of parents today—there are moms and dads, singles and couples.
To help kick off the enhanced community, Kmart is hosting a Playdate Picnic series this summer. An exclusive group of invited guests will participate, interacting with the latest toys to market. Parents play a big part in the play date experience as well—they can play with their children and gain first-hand experience of the latest products to hit the market, or enjoy a relaxing hand massage and meet and mingle with other parents.
As an additional perk, parents can sign up for the birthday club, where kids earn $5 birthday bucks on their birthday and parents can access great tips on gifts for children.