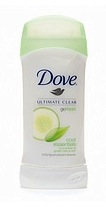 It was a big surprise this morning for all of us not to see Kmart Super Doubles advertised in the weekly Kmart ad! My advice is to call your local store to confirm they are participating. Others are saying that coupons are doubling regardless as long as you have your Rewards Card scanned. For those of you that may get a "No, we are not doubling" from stores that were supposed to be doubling, you may want to email corporate and get an written response you can bring with you to the store. I personally won't be doubling coupons because I don't have a Kmart near me that will be doubling, and I would like to have more than 5 coupons doubled per day.
For those of you who have stores that are doubling coupons, here is a deal for you! There is a Catalina promotion going on at Kmart on Dove Beauty products: Get a $5 Catalina when you buy $15 in Dove products. Here's how to make this a moneymaker:
Buy 5 Dove Ultimate Clear at $3.79 each: $18.95
Use 5 $2/1 Dove Ultimate printable coupons
Pay as little as just tax
Get back a $5 Catalina coupon
Final cost: FREE + $5 moneymaker!
*Go here for more Kmart Super Doubles deals.
Thanks, Common Sense With Money!