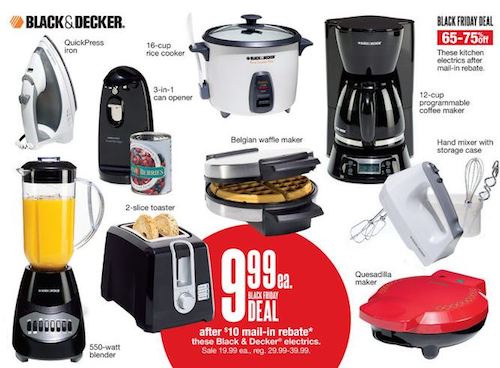 Another Kohl's deal for you! Kohl's is offering a bunch of Black & Decker appliances for $19.99; plus, you can submit for a $10 rebate to make them $9.99 each.
When you buy 3, you'll be eligible to earn $15 in Kohl's Cash, which drops the price to just $1.99 each!
Black & Decker Appliances Included:
16 cup Rice Cooker
3-in-1 Electric Can Opener
550 Watt Blender
2-Slice Toaster
12-cup Programmable Coffee Maker
Hand Mixer with Storage Case
Belgian Waffle Maker
Quesadilla Maker
Deal Scenario:
Buy 3 Black & Decker Appliances listed above – $19.99 each
Use coupon code BLACKFRI for 15% off
Pay $50.97 plus tax
Get back $15 in Kohl's Cash
Submit for (3) $10 rebates
Final Price: $1.99 each
Get This Black & Decker Appliances Deal
Purchase must be made between 11/25/2013 – 11/29/2013 and postmarked by 1/13/2014. Limit 5 rebates per product. Rewards totaling $10 or more will be issued in the form of a Kohl's Visa Prepaid Card. Allow 8 weeks for receipt of reward.
More Kohl's Deals:
Kohl's: *HOT* Deals on KitchenAid Mixers
Kohl's: *HOT* 3 FREE Kitchen Appliances After Rebate and Kohl's Cash!