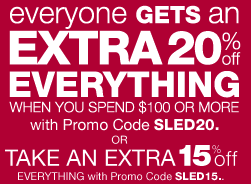 Are you headed out to Kohl's to check out their Christmas clearance deals today? If so, make sure you print this YES pass, which will get you 15% off any purchase, or 20% off a purchase of $100 or more. Combine this with the Christmas clearance and you're sure to find some great prices!
These deals are all available online as well! Just use coupon code SLED15 to get 15% off, or SLED20 to get 20% off $100 or more. Shipping is a flat $0.99 per item, or it will be FREE when you spend $75 or more.
Scroll down to see more Kohl's coupon codes!
Thanks, Penny Pinchin' Mom!