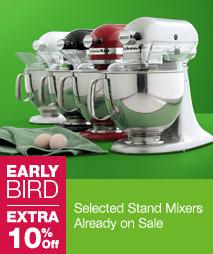 Check out this awesome deal on Kitchen Aid Mixers this morning at Kohl's!
The following discounts are applying this morning when you shop the Thanksgiving Day Early Bird Sale:
FREE S&H on $75+ (excludes surcharges)
Receive $10 Kohl's cash for every $50 you spend
Get an EXTRA 10% off for Early Birds
Use coupon code EXTRA20 to get an additional 20% off
Here's a deal scenario to get the KitchenAid Mixer for $94.38:
White Kitchen Aid Mixer (4.5 qt.), $199
Add in a small filler item for at least $8
Save 10% with the Early Bird Special
Save 20% with coupon code EXTRA20
Pay $150.39
Submit for the $20 mail in rebate
Get $30 in Kohl's Cash to be spent on future purchases
Shop through Ebates or ShopAtHome and get 4% cash back ($6.01)
Final cost: $94.38
Thanks, Passion for Savings™!