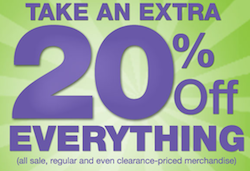 Through tomorrow, August 27th, Kohl's is offering 20% off sitewide, including clearance items! Just enter coupon code SAVEBTS at checkout to get your discount. Also, they are offering $0.99 shipping per item, so you should be able to score some awesome deals!
This would be a great time to pick up a few last minute back to school items, or just find something for yourself! Don't forget to check out the clearance section too.
Thanks, Eeendeavors!