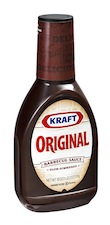 Head over to the Kraft Barbecue Sauce Facebook page and you can get a nice coupon for $0.50/1 Kraft BBQ Sauce. This should make for a great deal if your local store doubles coupons!
If you don't have a store that doubles, you can still get a nice deal on this at Target:
Kraft BBQ Sauce, $1.02
$0.50/1 Kraft BBQ Sauce
Final cost: $0.52 each
Thanks Coupon Dad!