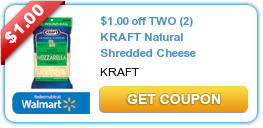 These coupons reset for me! 🙂
Wow! Coupons.com is at it again with more new coupons. This time, they've loaded lots of Kraft printable coupons, ranging from Jell-O to cheese to Capri Sun. I've listed all the new coupons below.
Kraft Printable Coupons
$1/2 Jell-O Ready To Eat Puddings
$1/1 Planters Mixed Nuts or Cashews
$1/2 MiO Liquid Water Enhancers
$1/2 MiO Liquid Water Enhancers
$1/2 Crystal Light Liquid Drink Mix
$1/3 Capri Sun 10 pack
$1/1 Maxwell House Coffee
$1/3 Kraft Macaroni & Cheese Blue Boxes
$1/2 Velveeta Shells & Cheese Dinners
$1/2 Velveeta Skillets or Casseroles
$1/2 Kraft Dressing 16 oz
$1/1 Kraft Mayo or Miracle Whip 30 oz
$1/2 Kraft Natural Shredded Cheese
$1/1 Velveeta 32 oz
$1/3 Oscar Mayer Lunchables
$0.75/2 Sugar Free Jell-O Refrigerated Snacks
$0.55/1 Package Oscar Mayer Classic Wieners
Check out the other printable coupons released today.