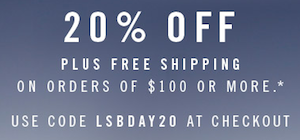 Today is Levi Strauss's birthday! To celebrate, Levi's.com is offering 20% off your order with coupon code LSBDAY20. Plus, if you spend $100 or more, you'll also get FREE shipping on your order!
Don't forget to check the sale section to find the best bargains!
Check out the other online deals I've posted. You don't even have to leave your house!