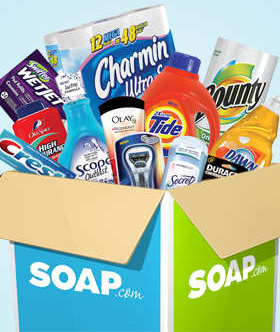 Today, you can get a great deal on P&G products through LivingSocial! Grab $20 to spend on 50+ top household brands at Soap.com for just $10. If you sign up for a LivingSocial account through my link, you'll receive 5 FREE Deal Bucks, which would make this only $5! If you spend $25 or more on Soap.com, you'll also score FREE shipping.
This offer applies to the following brands: Accu-Clear, Align, Always, Ariel, Aussie, Bold, Bounce, Bounty, Braun, Camay, Cascade, Charmin, Cheer, Clairol, Clearblue Easy, CoverGirl, CoverGirl & Olay, Crest, Dawn, Downy, Duracell, Era, Fact Plus, Febreze, Fixodent, Gain, Gillette, Gleem, Head & Shoulders, Herbal Essences, Ivory, Ivory Snow, Joy, Metamucil, Mr. Clean, Olay, Old Spice, Oral B, Pantene, Pepto-Bismol, Prilosec, Puffs, Pur, SafeGuard, Scope, Secret, Swash, Swiffer, Tampax, Tide, Tide To Go, and Vicks.
Limit one per household, may buy 1 additional as a gift. Shipping and handling charges are not included. Vouchers cannot be redeemed for purchases of gift certificates and can only be applied to one order; the full value must be redeemed in a single transaction. Vouchers cannot be reloaded, resold, transferred for value, redeemed for cash or applied to any other account. Promotional value expires on December 28, 2011.