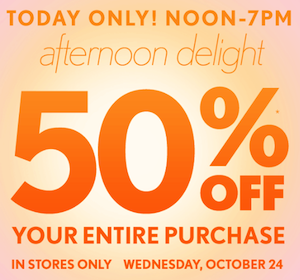 WOW! Here's a very rare and high value LOFT coupon! Today, October 24th only, you can save 50% off your entire in-store purchase from noon to 7pm. All you have to do is present your LOFT coupon at checkout.
You will need to be a LOFT Insider in order to use this coupon, but the good news is that it's completely free to sign up! You can click on the link above and sign up online, or you can probably enroll in-stores too.
Let us know what deals you're able to find with this awesome coupon!
Coupons procured by Savings.com