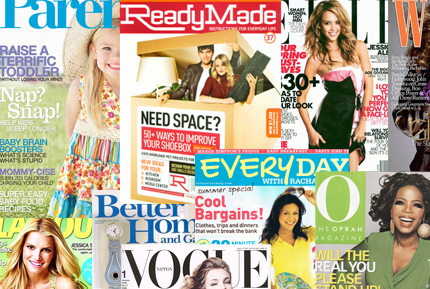 Nicole from Nicole's Nickels does an awesome round-up each month of the current coupons found in magazines! She tries to list every single coupon in lots of popular magazines and also provides the page number they're found on.
Magazine Coupon Highlights:

Woman's Day
Page 70 – Save $1.50 on Bona Floor Cleaner
Page 133 – Save $.50 on Egglands Best Eggs
Good Housekeeping
Page 10 – Save $2.00 on any Simple Green Naturals product
Page 108 – Save $2.00 on a Cetaphil product
Between Pages 142 and 143 – Free Single roll of Marcal Small Steps or $1.00 off
Page 202 – Save $1.00 on Laura's Lean Beef Steak
Marie Clare
Between pages 56 and 57 – Save $2.00 On any Rimmel Cosmetic (Target coupon)
Page 65 – Save $1.00 on any Revlon Cosmetic (Target coupon)
All You Magazine
$3 off any Neutrogena Cosmetics products, exp. 5/14/10
$2 off any Lubriderm body lotion, cream, or ointment, exp. 5/31/10
$5/$10 worth of any NYC products, exp. 4/30/10
$1.50 off Banquet Family Size Meal, exp. 5/31/10
Try one (1) free Banquet Family Size Meal rebate form, exp. 5/31/10
FREE Rimmel product: Colour Rush Trio Eyeshadow, Lycra Lash Extender Mascara, Exaggerate Eye Definer, Natural Bronzer, Lasting Finish Intense Wear Lipstick (up to $5 value)
**Make sure to check out Nicole's post for the full list of magazine coupons!
Thanks, Hip2Save!