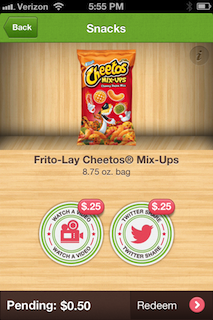 Here are some great new Ibotta offers to load to your account! Load any you think you might use, because these do have a limit.
Store Extras: Sam's Club
$1.50/1 Crystal Light Liquid, 3 pk 1.62 oz. bottles
$1.50/1 Crystal Light, 32 qt
$1.50/1 Kool-Aid Jammers Variety Pack, 40 ct
$1.50/1 Kool-Aid Sugar Sweetened, 5 lb
$1.50/1 Country Time Lemonade, 67 oz +
Store Extras: Rite Aid
$0.50/1 Nivea Active3 3-in-1 Body Wash, 16.9 oz
$0.50/1 ACT Total Care Anticavity Mouthwash
$0.50/1 Reynolds Wrap Foil, standard and heavy duty varieties
$0.75/1 Flintstones Vitamin Gummies
Store Extras: Winco
$3/1 Nature Valley Protein Crunchy Granola
$1/1 Nature Valley Soft-Baked Oatmeal Squares, 6 ct
$2/1 Vanilla Chex Cereal, 12.8 oz
$2/1 Hershey's Cookies 'n' Creme Cereal, 10.9 oz
$0.25/1 Betty Crocker Suddenly Salad Pasta, 5.9 oz +
$0.25/1 Yoplait Greek 100 Yogurt, 5.3 oz
$0.50/1 Yoplait Yogurt, 6 oz
$0.50/1 Betty Crocker Super Moist, 15.25 oz
All Stores
$0.50/1 Amy's Pizza
$0.50/1 Applegate Naturals Breakfast Sausage, 7 oz +
$0.50/1 Scotch-Brite Scrub Sponge Heavy Duty Varieties, 2 ct +
$0.50/1 Mission Tortillas
$0.50/1 Frito-Lay Cheetos Mix-Ups, 8.75 oz
Bonuses
$2 Coca-Cola at 7-Eleven Bonus
Redeem all 4 Coca-Cola offers (Simply Beverages, Gold Peak Tea, vitaminwater, Coca-Cola Zero) at 7-Eleven and earn an extra $2.
$1 Kool-Aid at Sam's Club Bonus
Redeem both Kool-Aid Store Extras offers (Kool-Aid Jammers and Kool-Aid Sugar Sweetened Canister) on a single trip to Sam's Club and earn an extra $1.
$1 June Quick Start Bonus
Move quickly and redeem 3 offers by June 15th to earn an extra $1.
Sign Up for Ibotta
Remember, these offers won't come off of your grocery bill, but will be deposited into your account once you upload your receipt. Read more about the Ibotta app.