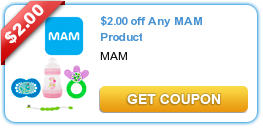 Coupons.com is at it again with another new high value coupon! If you have young kiddos, you'll want to print out this $2/1 MAM Product coupon. You can stack this with the Target baby mobile coupon to get free pacifiers!
If you're not signed up for Target baby mobile coupons yet, just text BABY4 to 827438, and you'll receive the link to the coupons shortly. You will need to have an Internet capable phone to use the coupons.
Here's how to get these pacifiers for free:
MAM Newborn Pacifiers (2 pk.), psa $3.99
$2/1 MAM Product printable
$2/1 MAM Pacifier (2 pk.) Target baby mobile coupon
FREE after coupons!
Thanks Totally Target!