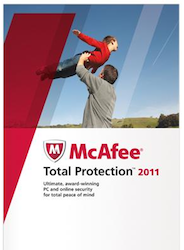 Is it time to update your virus protection? If so, don't pay for it! You can get it FREE after mail in rebate. Purchase McAfee Total Protection 2011 (1 user) from Newegg, then submit for this $55 Visa Prepaid Card rebate to get it FREE!
The purchase must be made by August 10th, and the rebate needs to be postmarked by September 10th. Please allow 8-10 weeks for delivery of your Visa prepaid card.
Thanks, Savings Lifestyle!