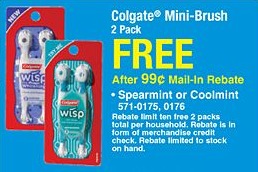 Have a Menards in your town? Check out these freebies you can grab after rebate!
FREE 8 oz bottle of hand sanitizer, $1 each (limit 5)
FREE 2 count Colgate Wisp, $0.99 (limit 10)
FREE 12 pack Pens, $1 each (black or blue, limit 10)
FREE LED Book Light, $3
Remember, you'll pay full out of pocket and receive your purchase price back in the form of Menards store credit.
Thanks, Common Sense with Money!