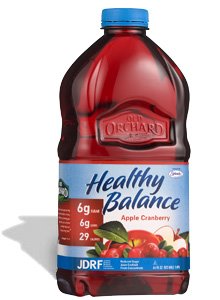 Here are more mail in rebates, if you don't have a ton outstanding already like I do:
Kids 'n Pets Stain & Odor Remover: Become a fan of Kids 'n Pets on Facebook and you can get a rebate form for a FREE bottle of Kids 'n Pets Stain and Odor Remover. This offer expires within 30 days of becoming a fan.
These can be found at Super Target.
Langers Juice: If you drink a lot of Langers Juice, you can earn a FREE Wii game, GI Joe toy and more via mail-in rebate.
Old Orchard Healthy Balance: Collect 10 UPC barcodes from any Healthy Balance juice product, and redeem them for a coupon good for 1 FREE Healthy Balance 64oz juice (any flavor).
Kernel Seasons: Get $5 back via mail-in rebate when you buy any 2 participating Kernel Seasons products and  Snow White And The Seven Dwarfs, Tinker Bell and the Lost Treasure, Santa Buddies or UP on DVD or Blu-ray. Purchase must be made by 2/28/2010.
Kotex: Sign up to take the 7-day Kotex Panty Challenge for one week. If you're not completely satisfied with Kotex, they'll buy you a new pair of panties ($4 rebate). There is a limit of one rebate per person. Offer ends 3/20/2010. When you participate in the challenge, you'll also be entered into a contest to win a $100 panty shopping spree.
Prestone: Purchase any (2) one-gallon participating bottles of Prestone Extended Life Antifreeze/Coolant and

get the second one FREE via mail-in rebate

. Offer ends 2/28/2010.
Dr. Scholl's: Buy one Dr. Scholl's Custom Fit Orthotic product between January 15, 2010 and April 30, 2010 and get $10 back via mail-in rebate.
Baby Einstein: If you purchased a Baby Einstein DVD between June 2004 and September 2009, you could get a cash refund ($15.99) or exchange it for a different Baby Einstein DVD or CD.  This offer ends 3/4/2010.  You can request up to 4 refunds or exchanges per household.
Thanks, Deal Seeking Mom!