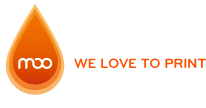 For a limited time, Moo.com is offering up 50 FREE business cards + $6 shipping! Each of the 50 FREE business cards can have a different uploaded image! You'll also have the opportunity to upload a second image and/or text on the back side of the card. Usually, most FREE business card offers don't include the printing on the back side!
You will need to pay $6 shipping, which means each card is essentially costing 12¢. Moo.com will also place a small ad running across the bottom of the card.
To get yours:
Head over to Moo.com and click on 'Start Making a FREE Pack'.
Upload your own images (up to a total of 50), choose a ready-made pack or make text cards.
Follow the directions to add your images and/or designs to the cards.
When you get to the preview image page, be sure to check standard, which includes the Moo advertisement and makes the cards FREE.
You will then be directed to a page where you can add an additional image/text to the back side of the card.
Preview your cards, choose your paper type (both are FREE), then head to checkout and choose $6 shipping.
Thanks, Hip2Save!