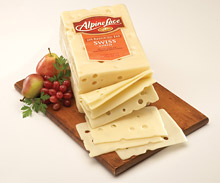 Alpine Lace cheese is offering a great coupon! Just sign up to become a member of AlpineLace.com and for doing so, you'll be able to print a coupon to save $1 off 1/2 lb or 1 lb of their deli cheese. You'll automatically be entered to win FREE cheese for 1 year! There is a new winner each month.
Other New Coupons:
Save $1/1 Bagel Bites (9 count or larger)
Save up to $7 on Listerine Whitening Products:
Click on the Special Offers tab on the upper right hand side.
$1.50/1 Listerine Whitening Plus Restoring Rinse
$1.50/1 Listerine Whitening Vibrant White Rinse
$1/1 Listerine Whitening Pre-Brush Rinse
$3/1 Listerine Whitening Quick Dissolving Strips
Save $2 off any $10 purchase of Post-it Products
This is a PDF coupon and doesn't expire until 4/30/2010.
Save $0.65 off any container of Daisy Brand Cottage Cheese
Click on the coupon link in the bottom right hand side.
This is a SmartSource coupon and will print immediately after clicking the link.
Red Plum has a few new coupons available:
$0.55 off any one package of Dixie Napkins
$1 off any two Tums 24 count or larger
$1 off any one Carefree product (available to print again)
$1 off any one Stayfree product (available to print again)
Thanks, Hip2Save!