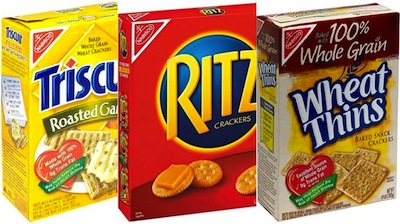 Coupons.com has a nice new coupon for crackers! You can currently print a coupon for Buy 2 Nabisco Crackers (9-16 oz), get one FREE (up to $2.50 value)!
If you're not seeing the coupon after clicking on the link above, try changing zip codes. Click on the Local Coupons tab, enter zip code 77477 or 34786, then click on the link again.
Both CVS and Walgreens have these on sale this week, and you can get a pretty good deal on crackers after this coupon.
:: CVS
Buy 6 Nabisco Wheat Thins, Triscuit, or Ritz Crackers (6-15.1 oz), 2/$5
(2) Buy 2 Nabisco Crackers (9-16 oz), get one FREE (up to $2.50 value)
Final cost: $1.67 each
:: Walgreens
Buy 6 Nabisco Crackers (6-16 oz), 2/$6
$1/2 Nabisco Crackerfuls, 6 – 16 oz Walgreens IVC, September 2012 (deducts $3)
(2) Buy 2 Nabisco Crackers (9-16 oz), get one FREE (up to $2.50 value)
Final cost: $1.67 each