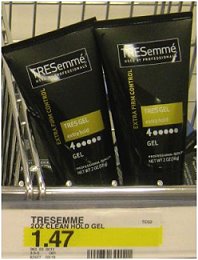 There's a new Tresemme coupon available! To get your coupon, go here and select a product to review. Click 'Submit a Review' and fill out the short form that pops up, then continue to review the product. Once you submit the review, you'll have access to print the coupon. Make sure to press your browser's back button to print 2 coupons per computer!
**Note: The coupon prints on the bottom of the page.
This coupon doesn't exclude travel size, so you can get a travel size item pretty cheap! Target sells the 2 oz Gel and a travel size hairspray for $1.47, so $0.47 after coupon.
Thanks, Totally Target!